Product Characteristics of 5mL Centrifuge Tube
1. Use rigorous tested polypropylene copolymers (PPCO) as raw material, which conforms to the standards of food and drug administration (FDA) etc.
2. This kind of centrifugal tube have good separation/graining ability that conical tube have, can be widely use in molecular biology, clinical chemistry and biochemistry research. No matter Centrifugal, blending, or other applications, this kind of tube can finish your experiment process.
3. Advanced production technology significantly increased mechanical strength to withstand max RCF 50000xg.
4. It can be under high temperature and high pressure sterilization for 20 minutes in 121°C, 0.1mpa(15psig/1bar).
5. Excellent mechanical properties let it reusable after clean and high temperature sterilization.
6. Screw off the cap before high temperature sterilization, and don't tighten the caps when sterilization.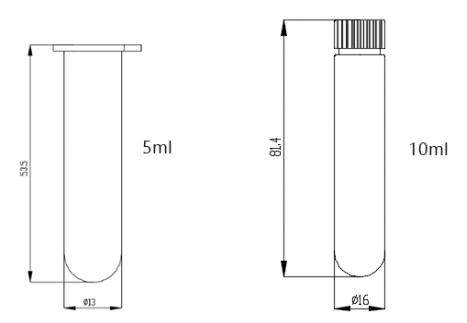 Product Information of 5mL Centrifuge Tube
| | | |
| --- | --- | --- |
| Order No. | 0305531040 | 0305531060 |
| Capacity | 5ml | 10ml |
| Material | PPCO | PPCO |
| Size (Diameter x Height) | Φ13 x 53.5mm | Φ16 x 81.4mm |
| Max. RCF | 50000xg | 50000xg |
Note: The excellent quality of 5ml and 10ml tube can be used in foreign centrifuge and completely replace foreign centrifuge tube with the same specification.

*Recommend high temperature sterilization before use it.