Product Characteristic of 250mL 500mL Conical Bottom Centrifuge Bottle
1. Use rigorous tested polypropylene copolymers (PPCO) as raw material, which conforms with the standards of food and drug administration (FDA) etc.
2. The bottle is translucent with excellent chemical resistance, advanced production technology significantly increased lining finish, decrease the cutting force to cell, can be more effective in protecting samples.
3. Good mechanical performance and high strength.
4. It can be under high temperature and high pressure sterilization for 20 minutes in 121°C, 0.1mpa(15psig/1bar).
5. It can reach oversea conical centrifugal bottles 6000xg performance; it can completely replace imported bottles.
6. Screw off the cap before high temperature sterilization, and don't tighten the caps when sterilization.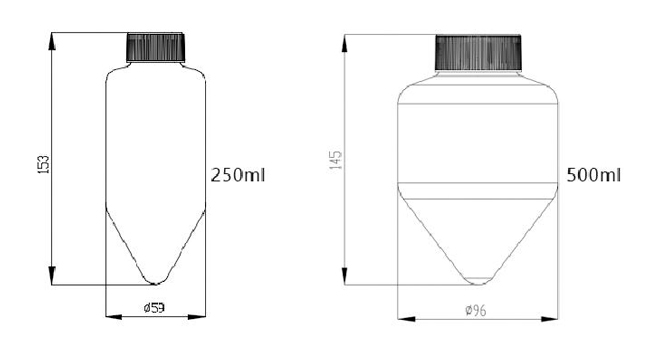 Product Information of 250mL 500mL Conical Bottom Centrifuge Bottle
| | | |
| --- | --- | --- |
| Order No. | 0305536060 | 0305536230 |
| Capacity | 250ml | 500ml |
| Material | PPCO | PPCO |
| Size(Diameter x Height) | Φ59 x 153mm | Φ96 x 145mm |
| Max. RCF | 6000xg | 6000xg |
Note: 250ml and 500ml conical bottles can be used in centrifuge model CLT55R/CLT55/CHT210R/CHT210/L535R-1/L535R/L550 etc. made by "cence".
*Recommend high temperature sterilization before use it.